Welcome to Jeff Laurence.com &
Autumn Hill Studio & Stables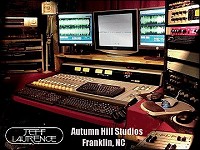 From the pristine Smoky Mountains of North Carolina. Our main studio complex is one of the finest in the south for post-production audio, voice tracks and narration, full production retail audio spots, and broadcast promotion and imaging. This year we have our new Four Winds "Dorado" Motorhome fully equipped with Wheatstone Audioarts R55/9 console, Pro Tools HD, Denon CD cart decks, Sennheiser MKH416 mics and additional equipment provided by our favorite broadcast audio supplier SCMS out of Charlotte. We will be rolling all around North America producing superior quality audio and uploading it to our various download sites via Datastorm MotoSAT satellite system. We have also built a new studio building in Madison, GA (about an hour East of Atlanta) Carol and I thank you for visiting, and hope to be able to do business with you soon.

Jeff Laurence's voice and production is currently heard on over 125 successful radio stations throughout the US and Canada. Internationally on Riviera Radio in Monte Carlo, Belgium's HitRadioFM, Netherlands' "Wonderful678", the Internet's premiere Chinese Hit Music station: Chinamericahitradio.com and Switzerland's Radio Canal 80...plus on national and regional television commercials for Universal Studios Orlando Resort, Nutri System, Rug Doctor, Ford Motor Co, KFC, The Hulk Hogan Grill, The Nicer Dicer, National Geographic, Pro Caulk, Dish Network..and many others. NOW newly represented by the CESD Talent Management firm in New York City. Contact Nate Zeitz for booking info at 212-477-1666 ext 176. We are proud to be in our 7th year as the 'off-stage' voice for the annual Star Trek Convention 'Galileo 7' in Dusseldorf, Germany
"Fresh imaging optimized for HD Radio streams at no additional monthly charge!"


Enjoy Our New, Interactive WebSite!