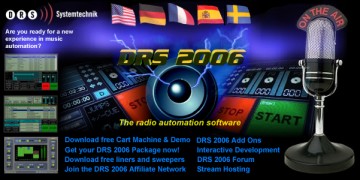 DRS 2006
Radio Automation Software
DRS2006 is an amazingly affordable and easy to run Radio Automation software package. It will program hard-drive music, spots, promos..even live assist on one PC with only one sound card..and it sounds awesome! Download a demo today!
The DRS 2006 Software Packages are complete radio automation systems. Mp3, mp2, wma, streaming, webcasting, on air, cable or satellite.
Join the radio revolution and get the full variety of mixing and making professional on air programs like big radio stations do. But DRS 2006 was not only made for radio stations. It is also useful for dance clubs, mobile DJ's, bars, restaurants etc.
Download your radio package now. Free unlimited cart machine included. DRS 2006 - Innovations in automation.