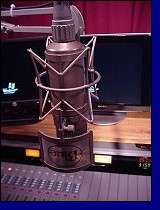 We have available lots of talented producers that can assemble your imaging product through our new Media Imaging Group LLP. Dave King can give you deatails in Las Vegas at 702-610-6406 or Jeff Laurence at 888-780-8542. Online at www.mediaimaginggroup.com

Are you a producer or voice talent? Do you need Internet Space to upload your demos and content? We now offer an affordable way to deliver your product to your clients at www.audiolocker.net
E-mail us for details on getting your OWN customized audio storage area complete with a free licensed copy of CuteFTP Pro if you sign up for a year!
As a visitor to our site, you can get an individual FREE fax number that will automatically e-mail faxes to your address. They'll actually GIVE you a personal FAX phone number! It's a free service for you from E-Fax..our official FAX delivery service!